What type of solution are you looking for?
Every job needs at least one portable toilet. We can help with that! It's quick and easy to get a temporary toilet on your job site. It keeps the construction site clean and sanitary. It's also mandatory for most municipalities to provide restroom service for your project. It takes less than five minutes to get the service set up for you. On an average project, we usually clean out the toilets once per week. But, depending on your job, we can clean out as much as necessary.

We can provide services for special events, construction projects, home renovations, sporting events, weddings, concerts, parties, fairs, and anything else that a group of people would attend. We've been in the portable toilet rental business for years, and our experience and customer service is second to none. Let us help you on your next event, and give you the best experience you've every had renting a toilet! Also, check out our other services, like: roll off dumpster rentals. We have the best rates and service for dumpster rental in the area. Call today!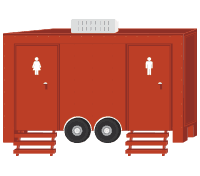 Event Restroom Trailers provides guests with what they least expect from a restroom service – luxurious and clean accommodations. When nature calls, we provide a comfortable and private place for you, your guests, or staff. Whether you rent one of our portable toilets, restroom trailers, or portable sanitation stations, we deliver quality, worry-free equipment. We offer the following: 8, 10, or 16 restroom trailer.